News
BroadWeigh's Updated Wireless
System Makes its Prolight + Sound Debut
BroadWeigh's newly updated wireless load cell monitoring system will make its Prolight + Sound debut at this year's show. Distributors for the brand, including AC Entertainment (Hall 5 Level 0, Booths A26 & A27) Hof Alutec (Hall 3.0 , Booth A44) and Louis Reyners (Hall 3.0 Booth C14) are all set to feature BroadWeigh's latest offering on their stands. 
Jonathan Purdue, sales manager at BroadWeigh who will be on hand for the duration of the show to meet with customers said:
"We're delighted to have three of our European distributors at Prolight + Sound, demonstrating our updated system. BroadWeigh has worked hard to develop a new radio module giving four times the range of the previous system. Improvements in the omni-directional antenna have provided increased performance in more challenging environments such as high concentrations of truss or wall. We want our customers to have the opportunity to see it in action and understand just how simple it is to operate.  Prolight + Sound is the perfect opportunity for that."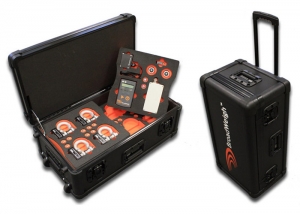 The upgrade to the BroadWeigh wireless system was launched in the last quarter of 2015 and feedback so far has been positive. Jonathan said:
"We've been getting nothing but good reviews since we launched the system at PLASA, but Prolight + Sound puts us in front of a very different audience and we're keen to hear from our customers, and potential customers in Europe."
Visitors to the AC Entertainment, HOF Alutec and Louis Reyners stand will be able to see the range of kit available and will provide guests with a real life scenario, demonstrating how effective the system can be in a critical situation or if the system goes into overload.
Jonathan explained:
" As a company we pride ourselves on listening to our customers' requests and where possible we will always try and turn their wish list into reality. Shows like Prolight + Sound are invaluable to us in that respect." Jonathan concluded: "We hope our customers in Europe see just how  fast and simple to use the BroadWeigh system is. It can be tailored specifically to each user simply by adding or subtracting shackles or other acquisition devices, such as the BroadWeigh Wind Speed Sensor. We are proud of the exceptional reliability and quality of our products and hope that rigging professionals in Europe will value the constant improvements to the product as we aim to lead the way in the industry."