News
BroadWeigh Wireless Load Monitoring
Now Has Dedicated Flight Case
Robust, custom designed flight case now available for 4, 8, 12 or 16 wireless load cell shackle systems
Mantracourt have announced that its BroadWeigh™ wireless load monitoring system is now available with a dedicated flight case.
The new, robust and lockable flight case provides protection and security for the equipment, as well as providing wheels and heavy duty handles for ease of transportation.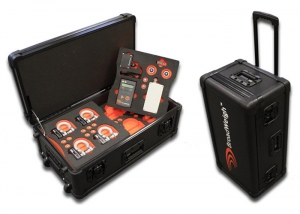 The BroadWeigh™ portable wireless system offers real-time, simple, effective and accurate load monitoring for rigging professionals, enabling them to monitor and log the precise loads on any given rigging point.
"We have been working closely with the entertainment industry in the development of the BroadWeigh systems," said Louise Stubbs, Marketing Coordinator at Mantracourt. "Having refined and proven the technology, we took on board feedback from our customers that for temporary and touring applications we needed to provide some form of protection and ease of handling. The feedback on this solution has been excellent, and we think that it adds a lot of value to the BroadWeigh range."
Central to the design of the BroadWeigh system are wireless shackles equipped with a high accuracy load pin that reports data remotely to a computer or a handheld display. The system is able to monitor multiple load cells and can trigger an alarm should a load exceed a preset parameter.
The BroadWeigh system is increasingly being adopted for concert halls, touring companies and stage shows, to provide essential measurements of force helping operatives avoid overload of design parameters. Designed to enhance safety and protect building structures, the BroadWeigh system has been developed in conjunction with entertainment industry professionals.