News
SENSORSPACE AWARDED BEST INNOVATION RUNNER UP AT 2021 LEEA AWARDS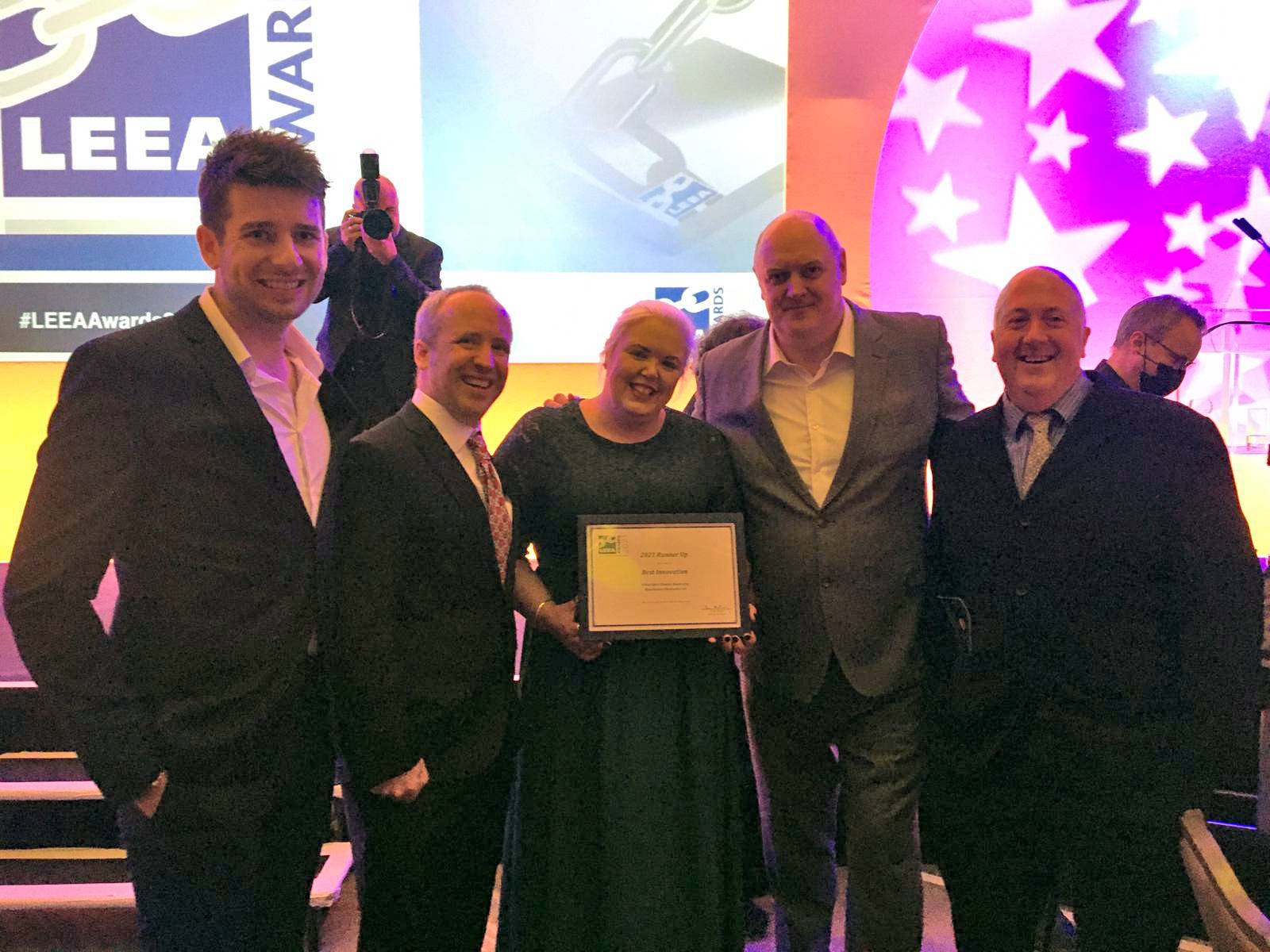 Broadweigh's SenorSpace Remote Monitoring from Mantracourt Ltd has been awarded the Best Innovation Runner Up in the 2021 LEEA Awards. Sensorspace, was selected as one of 8 finalists for the prestigious industry awards' Innovation category and on Saturday 5th November at a gala event at the Grosvenor Hotel in London, was recognised as a product that is truly innovative, providing a unique value proposition and tangible benefits to the lifting equipment industry.
The awards are open to LEEA members who have done the most to raise standards, allowing them to be recognised as among the best companies in the industry by their peers and their customers. The entries were judged by a panel of industry experts, with the 2021 Best Innovation Award entries needing to demonstrate how they address a need, solve a problem, seize an opportunity or create a new market.
Speaking after the ceremony, Robert Wilmington Badcock, Mantracourt's Managing Director said: "We are thrilled to be taking home the runner up award for Innovation at this year's LEEA Awards. When the COVID-19 pandemic all but shut down the entertainment industry, we were keen as a company to really invest in our R&D in order to bring some innovative and exciting new products and services to our customers."
SensorSpace is an 'add-on' service for users of Broadweigh load shackles. A rentable service, it combines hardware and software to collect, visualise and store data from load/ force and wind speed sensors which can be accessed via any internet enable device, bringing real time sensor data, together with powerful management tools to any number of personnel anywhere in the world. Site managers and rigging professionals can remain fully informed of structural conditions during a build/ lift.
When the system has fulfilled its job, SensorSpace equipment can be shipped to the next site, stored or returned to the factory. Data can be retrieved from the cloud and downloaded for further analysis if required.
Robert continued: "SensorSpace was launched in late 2020 whilst the world was in the grip of the COVID-19 pandemic. Despite the detrimental impact of the pandemic on the live events industry, we have been thrilled to see a strong interest and uptake in the product and as the market recovers we expect to see SensorSpace coming into its own, especially during festivals season."
To date the SensorSpace system has been in operation in numerous environments – from music festivals and baseball stadiums, to Christmas markets and television productions.
Robert concluded: "Pre-pandemic, Broadweigh as awarded two industry endorsed innovation awards – The ABTT Widget Award and 2019 and the LiveDesign International (LDI) Innovation Award 2021. We are proud to add the LEEA Runner Up award to our portfolio and look forward to building on our success next year."