News
Broadweigh Technology
Helps to Optimise Rigging Stability
The Broadweigh load monitoring system provides essential measurements of force to help operatives avoid
overload of design parameters.
UK technology company Mantracourt Electronics has launched a new range of load monitoring equipment that targets the requirements of the entertainment industry.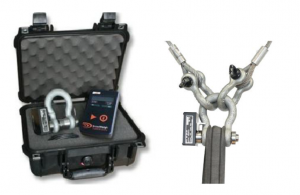 Mantracourt's Broadweigh system provides accurate, wireless, real-time load monitoring of stage equipment and has been designed to assist rigging professionals within the entertainment sector.
Central to the design of the system is a wireless shackle equipped with a high accuracy load pin that is able to report data wirelessly to a computer or a handheld display. The system is able to monitor multiple loads and trigger an alarm should a load exceed a preset parameter.
"Broadweigh has been especially developed for riggers to provide simple, effective, accurate and easy to use load monitoring," said Jonathan Purdue, Business Development Manager at Mantracourt. "Broadweigh easily enables the monitoring of the individual loads on each suspension point in a lifting operation. This information facilitates the correct balance and distribution of load. In addition it can provide early warnings prior to overload or under-load situations before an accident occurs.
The system also accommodates a wireless wind speed sensor (Anemometer) that can operate alongside the BroadWeigh shackle and base station. This enables the monitoring of wind speed in conjunction with actual loads in one simple system. With a wireless range of up to 400 m, this device features a power saving mode between transmissions to maximise battery life in the field.
UK based Mantracourt is a leading manufacturer of industrial measurement technologies, including strain gauge, temperature, resistance, pressure, voltage, current, potentiometer, rate, flow, LVDT and displacement in either analogue, digital or wireless form.
Recent applications for the system include outdoor music festivals / tradeshows and entertainment shows, where up to 100 Broadweigh shackles can be monitored, and the data collected and displayed on a computer.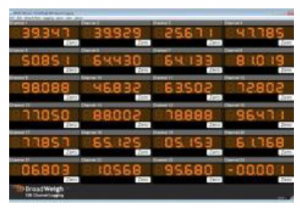 "Demand for the system has been driven by the requirement for a more rigorous approach towards Rigging and outdoor structures within the entertainment industry," said Jonathan Purdue. "In this respect, we have been working closely with industry experts to ensure that the Broadweigh system delivers a professional solution that is simple to use, accurate and reliable."
Based near Exeter in the South-West of England, Mantracourt was awarded the Queen's Award for Enterprise in International Trade in 2009 and now has a product range of over 1,000 designs.