News
BroadWeigh Software Enhances Remote
Load Monitoring of Rigging Equipment
The latest version of the BroadWeigh Log monitoring software (BW-LOG100) has been released to complement the BroadWeigh Load Monitoring System. BW-LOG100 is now more than just a data logging software package and offers many additional features.
BW-LOG100 software, developed to support the acclaimed BroadWeigh wireless load monitoring system, allows the viewing and logging of up to 100 channels of data from multiple wireless acquisition devices including load cells and anemometers. A web server feature now allows this data to be viewed remotely from a computer, tablet or any web enabled device.
The BroadWeigh™ portable wireless system offers real-time, simple, effective and accurate load monitoring for rigging professionals, safety officials and site managers enabling them to monitor and log the precise loads on any given rigging point.
Central to the design of the BroadWeigh system are wireless shackles equipped with a high accuracy, Crosby load pin that reports data remotely to a computer or a handheld display. The system is able to monitor multiple load cells and can trigger an alarm should a load exceed a preset parameter.
"The BW-LOG100 is a powerful set of software tools for the collection, visualization and analysis of the data generated by the wireless load shackles," said Jonathan Purdue, Sales Manager for BroadWeigh. "Furthermore, the software reports in real-time, so that changes can be monitored and alarm conditions can be avoided. It is also compatible with our wireless wind speed acquisition device."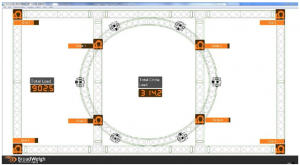 The BW-LOG100 logging software includes a graphical / mapping capability. Supporting a wide range of image formats, the software allows users to build graphically rich representations of the stage or concert environment. Rigging plots, CAD drawings, photographs or even scanned sketches can be imported as a backdrop for the data to be displayed over, in real-time.
The BroadWeigh system is increasingly being seen as a cost effective option for entertainment venues, touring companies and production suppliers, to provide essential measurements of force helping operatives eliminate overload risks. The BroadWeigh system has been developed in conjunction with entertainment industry professionals for real world work environments.