Case Studies
Eurovision 2018
Structural safety during huge live broadcast event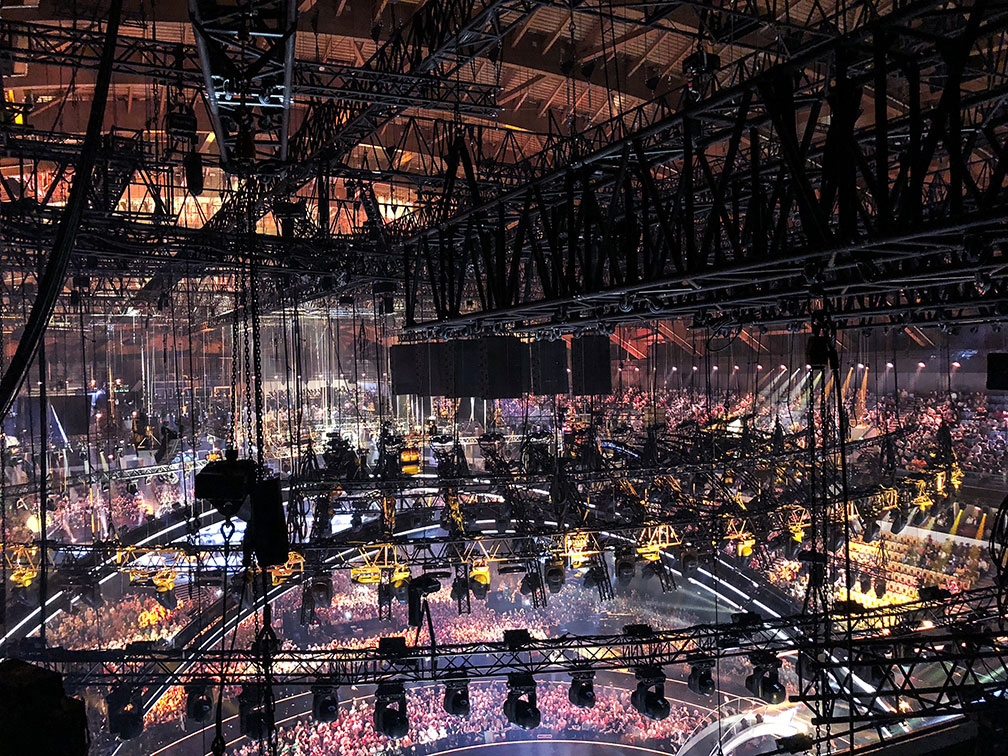 Background
The 2018 Eurovision Song Contest took place in Portugal's capital city Lisbon. This is the first time that the country has hosted the competition, following the success of Salvador Sobral who won the 2017 contest. The Lisbon Arena, located at the capital city's seashore hosted the event which was live broadcast to millions of viewers across the world. Of course no event like this comes together without months of meticulous planning – from infrastructure to logistics, engineering and not to mention health and safety – which is where BroadWeigh comes in. BigRig Berlin GmbH was asked by Ola Melzig, this year's head of production on Eurovision, if they would like to work as production head rigger for the event. At the same time, this year's official technical supplier for lighting and rigging was Ampco Flashlight from Utrecht, Netherlands. Early on in the project, Ampco Flashlight was looking for a supplier that could provide a large number of wireless load cells and chose to rent through BigRigRental GmbH.
The Challenge
The total weight of this year's Eurovision production stood at almost 220 tonnes. Besides the massive total, there were also some single objects that were very heavy too – the lighting backwall alone was over 20 tonnes.
This year's Production Head Rigger Johannes Schau said:

"The venue itself posed its own challenges. The distance between the suspension points on the venue mother grid was very small. In addition to that the venue mother grid in the Altice Arena is built out of a very rigid truss system. In this case a tiny difference in height of the suspension points could have caused a major deviation of load compared to the support reactions of the structural calculation. We knew that the only way to ensure the structural safety was to deploy a load monitoring system."

He continued "Every structural calculation is a theoretical model of reality. Based on the design of a rig, many factors can cause a huge deviation between the calculated values and reality. These deviations can be a serious threat to the structural safety of the rig or even the venue's roof structure."
The Solution
In total 177 3,25t and 4,75t BroadWeigh load cell shackles were provided for Eurovision and were used in three different parts of the production. 118 cells were used for the mother grid, 42 cells for the scenic elements and 15 cells for the lighting back wall. With the help of the BroadWeigh load cell read outs, Johannes was able to react to the above mentioned effects before the forces that exceeded the allowable maximum load could have posed a safety threat.
The Results
"With the BroadWeigh system, no stone was left unturned in ensuring the safety of the event. One of the main benefits of a wireless system like BroadWeigh's is the short time that is required for installation and dismantle," explained Johannes. "There are no cables that have to be linked between the load cells and the read out unit. Even in the case of Eurovision, where we had more than six weeks between load in and load out, this wasn't a problem for the power supply which operated off two AA batteries. The BroadWeigh kit was certainly put through its paces. It is a very well engineered system – the new transmitter on the latest load cell version has drastically improved the radio range too. The Log100 software is very versatile and allows everyone to easily programme their specific needs. The mapping view, where the readouts can be directly placed on the rigging plot, helped us immensely in keeping the overview at all times. It really was the right system for this huge, live-broadcast job."
Distributor Details
BigRig
Rigging & Event Support
Hertzstrasse 71,
Berlin 13158