News
The Only Way is Broadweigh for
Vasco Rossi Concert in Italy
The Stadio San Nicola in Bari, Italy, recently played host to a much anticipated Vasco Rossi rock concert, organised by Live Nation Italy. Predominantly a venue used for football matches, the stadium, which has the capacity to hold more than 58,000 people, was deemed the perfect location for the rock star's many thousands of fans.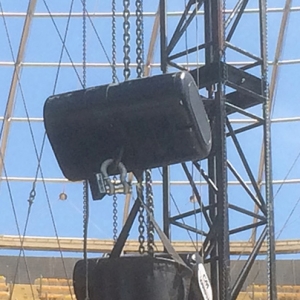 To ensure everything possible was done to guarantee the safety of the structure, Colin Luke, senior project manager at Oswestry-based Load Cell Rental, was asked to supply a way of monitoring the stage weights during the build.
Following conversations with the event organisers, Load Cell Rental supplied a 20 cell BroadWeigh system. Colin said:
"Following a spate of high profile events where temporary stages have collapsed, it was vital to leave no stone unturned in order to ensure the concert made the headlines for only the right reasons. No respectable concert organiser can afford to ignore the loadings on temporary structures and the BroadWeigh system is the perfect tool for the job."
The BroadWeigh load monitoring shackle is a portable wireless weighing system. It offers real time load monitoring for a wide variety of rigging applications without the need for time consuming and costly cabling. Coupled with the BroadWeigh wireless handheld display, it provides a user-friendly way of monitoring a load within a 200 metre range.
Load Cell Rental has been supplying its customers with the BroadWeigh system since September 2014,having purchased three full kits of 12-point load monitoring from the dedicated Rigging sales division of BroadWeigh's exclusive UK partner, A.C Entertainment Technologies Ltd., kick starting its wireless equipment hire offering. The deal, which at the time was thought to be the largest single purchase of BroadWeigh products in the UK since the brand's launch in 2011, was also seen as a significant sign that demand for load monitoring equipment is on the increase.
Colin added:
"With touring productions getting heavier and CDM regulations enforcement coming into play within the industry, there has never been a better time to invest in a reliable, robust system. BroadWeigh ticks all the boxes – it is perfect for dry hire use in all live music venues, and for weight report services where time constraints are an issue at load in."
With the main stage at the stadium in Bari already underway, Load Cell Rental also supplied another set of 16 BroadWeigh cells for a second stage.
In order to prove due diligence, Load Cell Rental collated all the point loadings for the Vasco Rossi stage into a report, with a certificate for each truss detailing the exact loadings and a calibrated cell reading, providing the actual weights for each point. Colin explained: "Everyone who sees the BroadWeigh system in action is bowled over by its capabilities. The precision of the system, gives the customer total confidence that their rigging and stage is more than up to the job."
He concluded:
"Wireless load cell monitoring is becoming increasingly popular due to increased range and reliability and the BroadWeigh brand is developing a reputation as a leader in terms of load cell technology. We never hesitate to recommend BroadWeigh and to date it's been used on numerous projects- from Sam Smith concert rehearsals to measuring a zip wire at an outward bound centre."