Don't Just Take Our Word For it…
Our customers depend on us for accurate load monitoring. Here's what our customers say about BroadWeigh.
After using the BroadWeigh system in one of our shows I would recommend it to any of my colleagues in the entertainment industry.
The ease of use of the BroadWeigh system, the speed at which it can be implemented and cost/value means it is both the best and the safest option for us. I would gladly recommend this system for any venue that is concerned with rigging overloads or incoming tours damaging the existing roof structures.
Following a spate of high profile events where temporary stages have collapsed, it was vital to leave no stone unturned in order to ensure the concert made the headlines for only the right reasons. No respectable concert organiser can afford to ignore the loadings on temporary structures and the BroadWeigh system is the perfect tool for the job.

Wireless load cell monitoring is becoming increasingly popular due to increased range and reliability and the BroadWeigh brand is developing a reputation as a leader in terms of load cell technology. We never hesitate to recommend BroadWeigh and to date it's been used on numerous projects – from Sam Smith concert rehearsals to measuring a zip wire at an outward bound centre.
Having distributed the BroadWeigh brand from it's early days I have seen the product range grow and the demand for load monitoring increase. AC-ET are proud to support a British company with a great product and a determination to push the boundaries. The support from Mantracourt staff has been outstanding whether it be re-writing software for a foreign customer in difficulty with an install, or technical back-up at a moments notice, they have been there for us. The product is second to none and the addition of accessories, coupled with modifications to the range after customer feedback has been encouraging to say the least.

The brand was based around the 3.25T and 4.75T wireless load monitoring shackle, however the BroadWeigh system now encompasses Wind Speed sensors, relay trigger modules, GPRS network adapters (for wireless data transfer offsite), repeater modules (to extend the 200m range) and a software monitoring program, that can all be adapted from the smallest to the largest needs of an installation. I have no doubt that BroadWeigh is leading the way in wireless load monitoring and am excited at the prospects for the future in this field.
BroadWeigh has proven to be reliable and accurate in every application we've used them in. Not having the cables makes the whole thing less of an ordeal every time. I'm very happy with the system and there is lots of interest from touring folks and local production people as well.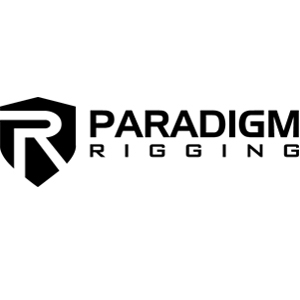 "The BroadWeigh kit is often a revelation to my customers – the simple shackle design and compact size means that often there is no loss of trim at all. My clients tell me that the installs are the easiest they've ever dealt with, and end-users are always raving about the flexibility of the display system and how easy it is to read and configure system loads."
We can't say enough great things about the BroadWeigh system. It is wireless, dependable, intuitive, accurate and cost effective. BroadWeigh has developed a product that removes all the objections that we have faced in the past about using load cells. Having BroadWeigh kit on tour with us has truly become one of the best tools that we have and we use them every day